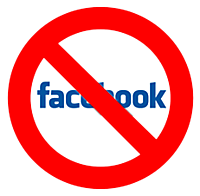 From last few days i am getting an error message on facebook, whenever i try to add someone it says that
"Do you know this user personally? To prevent misuse of Facebook, this request can't be sent. To learn more, please visit the Help Center."
and i had another message with it which said something like report to facebook, which i did many times but facebook took it off, so they don't want me to complain as well..
I guess Facebook was all about networking with people but this is a huge upset when people are limited and it is so silly that some people who i tried to add were close friends to me and we had many people as common friends but still STUPID facebook made up its mind .. this is crazy as what facebook says that they want to stop people invading other peoples privacy but by adding someone no one invades any ones privacy and if the other person is not interested they can reject their friendship request..
I just wanna say that facebook i think u are a stupid network and i hate you for being a bitch